OUR 35th REUNION WAS HELD THE WEEKEND OF JULY 29th, 30th AND 31st, 2011.
IT BEGAN WITH A GOLF OUTING ORIGINALLY SET FOR SANCTUARY LAKES GOLF COURSE
IN TROY, MICHIGAN.
AT ALMOST THE LAST MINUTE, WE DISCOVERED THAT THE VENDOR HAD LOST THEIR
LIQUOR LICENSE AND DISCONTINUED FOOD SERVICES.
IN ORDER NOT TO TURN THE "SANCTUARY" INTO PURGATORY FOR OUR CLASS, CHEECH
CONTACTED FIELDSTONE GOLF CLUB. FIELDSTONE IS THE CITY OF AUBURN HILLS
COURSE AND WAS OUR CHOICE FOR THE 2006/30th YEAR REUNION.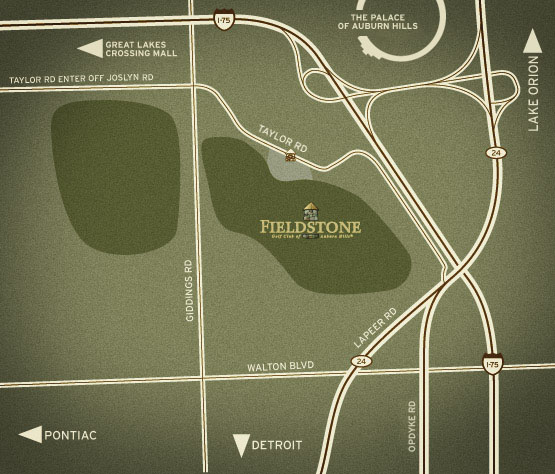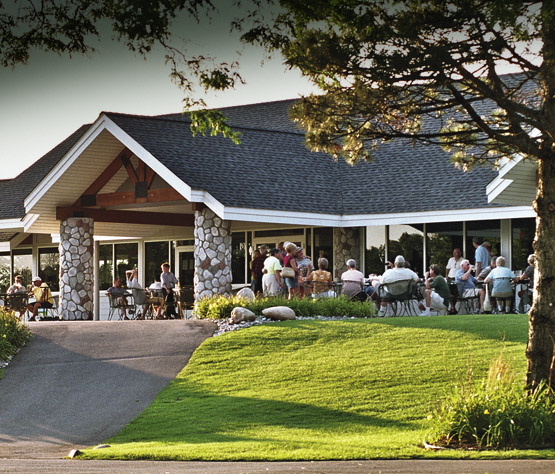 WE HAD A FANTASTIC TURNOUT WITH SEVEN AND ONE-HALF FOURSOMES (CHEECH SAID HE
WAS BLESSED WITH THE GRACE OF GOD AND DIDN'T NEED THE OTHER TWO TEAM MATES
IF HE COULD GOLF WITH FATHER MARK AKA: CLASSMATE MARK BAUER).
DUE TO SOME HEAVY DUTY RAINS THE THREE DAYS BEFORE, THE COURSE WAS MORE LIKE
FIELDSTONE LAKE WITH PORTIONS OF THE COURSE UNDERWATER, ESPECIALLY ON #14.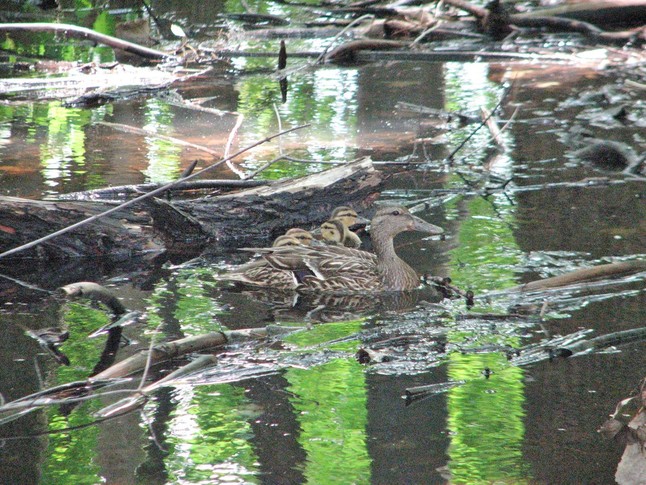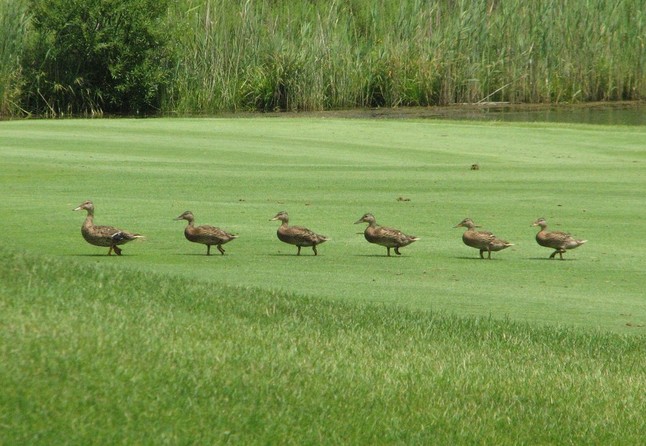 DESPITE THE CONDITIONS, WE ARE HAPPY TO REPORT THAT LIFE VESTS WERE NOT NEEDED
AND ALL GOLFERS FINISHED THE COURSE. WHEN THE POINT TOTALS WERE TALLIED, THE
RESULT WAS A TIE FOR FIRST PLACE. A TRIP TO THE PUTTING GREEN WAS IN ORDER, AND
YIELDED THE FOLLOWING RESULTS:
FIRST PLACE = THE HUSTON ASS-TROES: 2ND PLACE = THE PANCAKES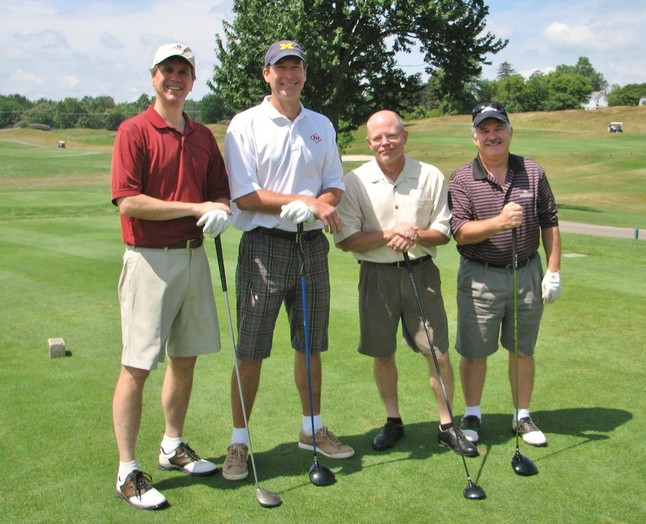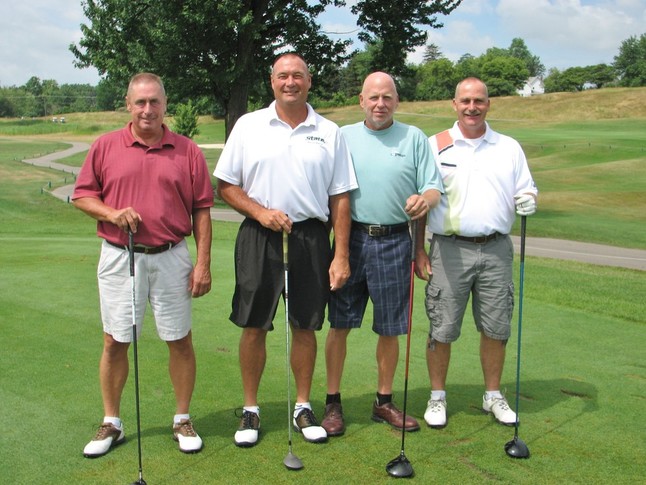 TEAM MEMBERS LISTED LEFT TO RIGHT:
ALLAN THORELL, MATT CABELL,TERRY BUDAY ROB BEAUCHAMP, JERRY LEITCH, ROB LIIKE
AND GREGG PARKER AND BRIAN HERVEY
--------------------------
AFTER GOLFING ALL ENJOYED FOOD
3RD PLACE = THE OLD FARTS (CLASS OF '73) AND REFRESHMENTS ON THE PATIO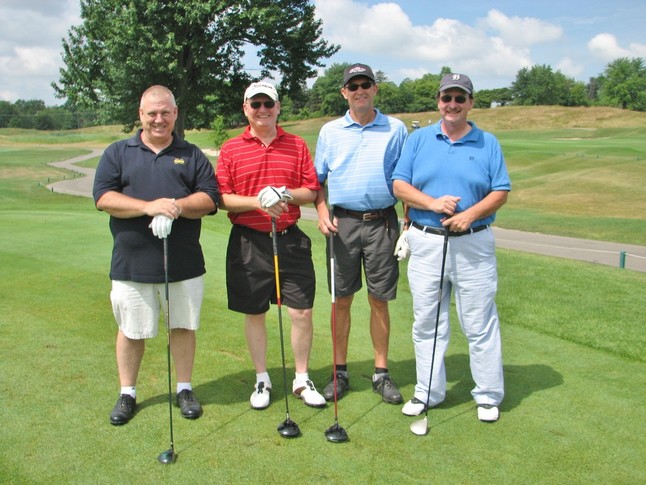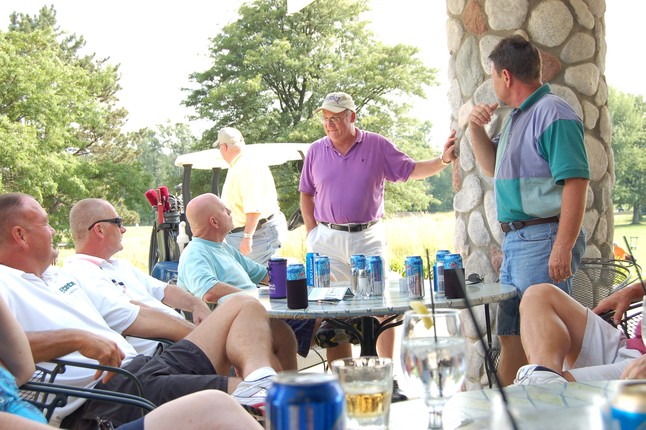 BILL WRUBEL, DAVE CHEVALIER, JOHN CABELL MORE THAN 55 TOTAL ENJOYED THE
AND JIM CHURCHILL FESTIVITIES
A SPECIAL THANKS TO DIANE PARKER FOR THE ABOVE AQUATIC PICS AND THE TEAM PICS
* * * * * * * * * * * * * * * * * * * * * * * * * * * * * * * * * * * * * * * * * * *
SATURDAY NIGHT WAS OUR BIG PARTY. IT WAS HELD AT THE POST BAR ON LAPEER ROAD (M-24)
ACROSS FROM THE PALACE OF AUBURN HILLS. AGAIN, WE HAD A SPECTACULAR TURNOUT WITH
OVER 80 CLASSMATES, SIGNIFICANT OTHERS AND GUESTS PARTICIPATING. SEVERAL SPECIAL
GUESTS WERE IN ATTENDANCE: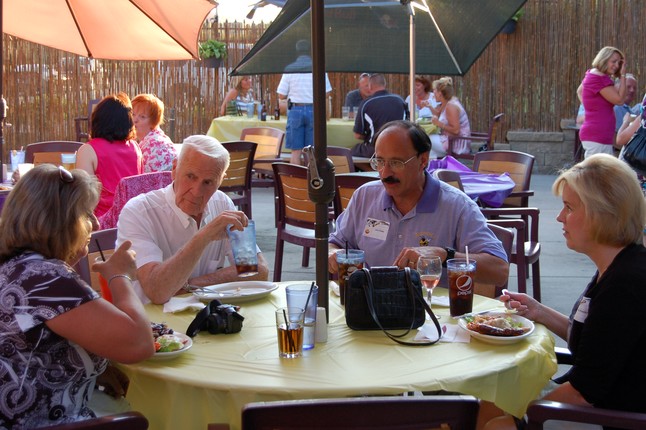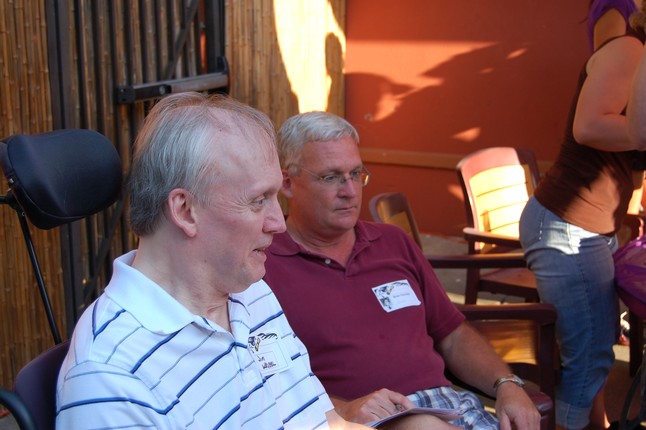 GREGG PARKERS WIFE DIANE CONVERSES SPECIAL GUEST CLASSMATE JIM WRUBEL CHATS
WITH SPECIAL GUESTS JOESEPH COE AND WITH CHEECH (CLASSMATE BRIAN CHURCHILL)
JOHN PETITTO AND HIS WIFE PAT
=====================================================
BUT THE FUN DID NOT END WITH THE PARTY. ON SUDAY, A GROUP MADE UP OF CLASSMATES,
FRIENDS AND OTHERS ATTENDED THE DETROIT TIGERS VS. LOS ANGELES ANGELS AT COMERICA
PARK IN DETROIT. PITCHER JUSTIN VERLANDER HELD A NO-HITTER INTO THE 8TH INNING
WITH THE TIGERS BEATING THE ANGELS BY A SCORE OF 3 TO 2.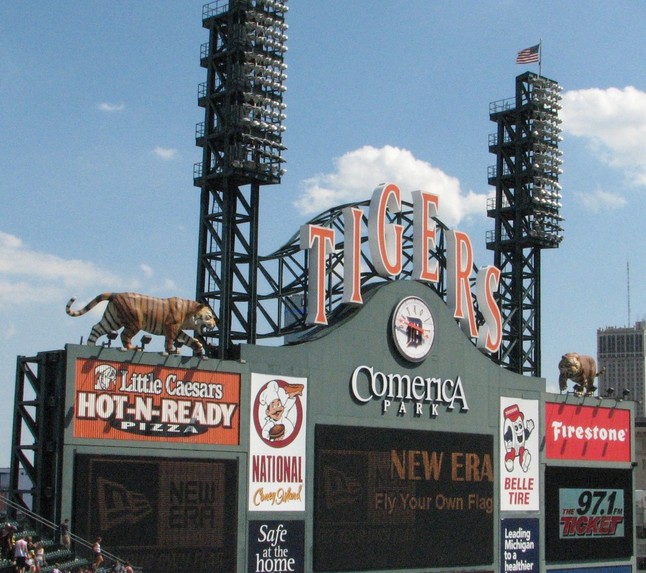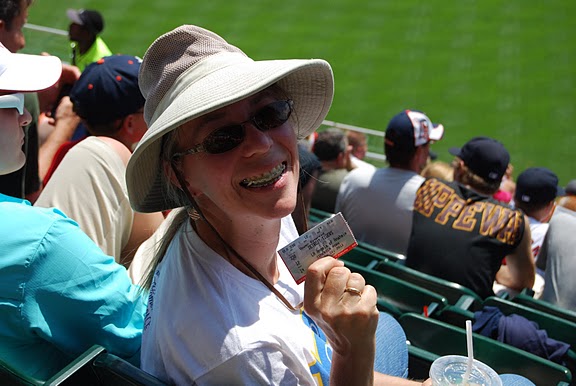 VIEW OF THE COMERICA PARK ENTRANCE WANDA VAN DENENDE AND HER TIGER TICKETS
(THANKS TO DIANE PARKER FOR THIS PHOTO) (THANKS TO SUE SOLLIDAY FOR THIS PHOTO)
------------------------------------------------------------------------------------
MORE PICS ARE AVAILABLE TO REGISTERED WEBSITE MEMBERS. CLICK ON PAST REUNIONS, THEN 2011 REUNION PHOTOS LINK LOCATED ON THE LEFT SIDE OF THE PAGE. A SECIAL RECAP BY BRIAN IS PROVIDED BELOW THE NEXT PARAGRAPH.
IF YOU ARE NOT A MEMBER,CHECK FOR YOUR NAME IN THE MEMBER PROFILES BY CLICKING ON
THE LINK AT THE TOP LEFT CORNER OF THE HOME PAGE. IF YOUR NAME IS NOT IN THE
LISTING, YOU MAY REQUEST MEMBERSHIP. SEE THE HOME PAGE FOR DETAILS.
Avondale 35th Reunion Recap
Well, it's over and what a blast. Here's the recap.
Friday- Golf and after party:
There we 30 golfers and then another 25+ came out to the golf course for the after-golf fellowship session. Everyone was very excited to see one another and and it was very loud. We took a decibel reading at one point and it was 83, between the noise of power tools and heavy truck traffic. Two teams tied for 1st Place, The Buzz-Cuts and the Houston Ass-troes, at 7 under par. There was an exciting and hilarious putt-off and the Houston squad was victorious, Alan Thorell, Matt Cabell, Gregg Parker and Dr. Buday. The best line of the day was when Father Mark Bauer came across a portion of a discarded golf shoe just off one of the greens and said, "So sad, another lost soul". It was hot and steamy and the motto of the day, "Keep hydrated". (some misinterpreted this sage advice)
Saturday Night Dinner – Main Event:
The casual nature of the evening made for a relaxed and carefree evening. Over 80 classmates and significant others were in attendance. 11 different states were represented; Tennessee, Michigan, Florida, Euphoria, Texas, Arizona, Illinois, Kentucky, Georgia, New York, and Tranquility.
Highlights of the evening;
· Dave Bland serenading us with his trumpet, what a talented fellow he is.
· Our celebrity guest, Joe Coe, was very funny and fit.
· The buffet was scrumptious.
· Dean receiving the Aquatic Tribute from Gregg Parker.
· Father Mark's good humored handling of not being prompted for the pre-meal blessing, until half way through the meal.
· Rubber duckies - $39.99….Dean being speechless – Priceless
· The easy mingling of classmates from group to group, talking and laughing and relating old tales and sharing current life updates.
· Mary Jo's exchange with Joe Coe about having Quintuplets and her sex education classes at Avon High. Joe's response, Yes Mary Jo, you excelled.
· John Petitto, another celebrity guest, we saw him grow from Student teacher to principal.
· Near the end of the evening, well after the official closing of the party, 10 or 12 classmates were huddled around our outside class graduation picture attempting to identify as many classmates as possible. How cute is that?
· A very, very pleasant, relaxed party.
Award Winners:
1. Most miles traveled to attend- Susan Minskey-Solliday – 2091 (eclipsed Don Behm by 8 miles)
2. First to Pay – Patti Redpath-Lee
3. Celebrity Guest – Joe Coe
4. Honored Classmate – Jim Wrubel
5. Most Children birthed at once- Mary Jo St. Clair
6. Trivia winner – Carol Gibbs
Sunday Tiger Game:
Hard to believe we watched the game of the year, with Verlander pitching a no-hitter into the 8th inning. It was a bright sun-shiney day at the old ball park and the old Tiges won the ball game. The perfect way to end the weekend.
Misc:
· Those not attending…..what are you waiting for? Christmas ? This may have
been our last reunion.
· Special thanks to Gregg's wife, Diane Parker, for being our class'
photographer.
· There were 11 kids from our 3rd Grade Auburn Heights Elem class, all we
needed was our teacher, Mr. Fangboner.
Please send in any great pictures you may have to Craig's email
address;avondale76reunion@yahoo.com